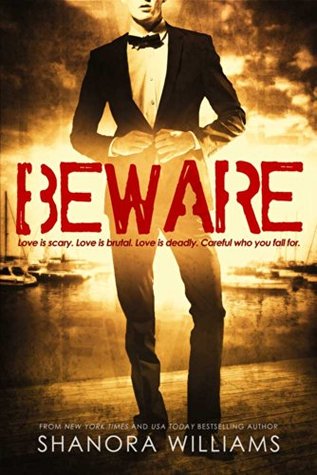 Beware
by
Shanora Williams
My rating:
5 of 5 stars
That was seriously emotional ride.
Beware
should have come with a Kleenex warning in addition to the other warnings. As the blurb says,
"This is a story full of dishonesty. Disloyalty. Broken hearts. Pain. Suffering. Lies. Destruction. This isn't a fairytale love story. This is real. And it just might break you."
Ms. Williams is not kidding, she pulls no punches in
Beware
. Ace is not your typical bad boy alpha. He is a bad man who does illegal things just because he can, because he likes the power, he likes the money, and he likes that he's good at it. Nothing he does is done without personal gain attached to it. He is arrogant. He is egocentric. He redefines sexy (boy howdy does he ever). And he likes his life just the way it is … until London is forced into his life.
London is broken when Ace enters her life and within a day she is shattered – witnessing the murder of her brother and only living family member nearly destroy her. When circumstances force her to rely on Ace for protection, she is angry and doesn't trust him. However, the mind and the body don't always cooperate and she finds herself drawn to him more and more with each encounter. Fortunately for the reader, Ace is as drawn to her and that makes for some intensely erotic sex scenes – Ace certainly knows how to get London burning.
Beware
is not a light read. It is an intense journey that will take you on a rollercoaster ride of emotions. It pulled me in from the start and I'm glad I was able to read it uninterrupted because I suspect with the emotional upheaval caused by the book, bodily harm would have been a real possibility to someone interrupting me. Even though I know how London and Ace's story plays out,
Beware
is a book that I will read again (and again) when I'm in the mood for a cathartic read.
I received a complimentary copy of the book in exchange for an honest review.
Reviewed by Angela at Crystal's Many Reviewers!
Check out the
Beware Tour Stop!
blog post on Crystal's Many Reviewers.
View all my reviews