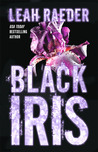 Black Iris
by
Leah Raeder
My rating:
5 of 5 stars
Things you should know before you read
Black Iris
. This book is raw and it is intense. It is not a love story, it is a story of revenge and love just happens to find its way in. What happens to Laney and what it drives her to do is ugly and yet the story is beautiful in its honesty. Laney tells you from the outset that she is broken and not a nice person and on this point, she does not lie.
Black Iris
deals with bullying, sexuality, mental illness, and addiction and it does it in a harsh yet truthful way. If you are okay with reading ugly truths, then proceed. I think you will quickly find yourself immersed in a dark and thought provoking story. But if you're looking for a hearts and flowers romance or a story of redemption, stop now because
Black Iris
is not it.
Black Iris
is told from Laney's point of view and we have three timelines playing out – the present, the past in which Laney's relationship with Blythe and Armin begins, and the slightly more distant past of Laney's time in high school when she endured the events that set her revenge plot in motion. Much like a braid, the initial weaving of the tale is a little haphazard as I got accustomed to Laney's narration and the author's writing style. But as I continued reading and became immersed in Laney's world, the shift from one timeline to another was smooth and flowed seamlessly, getting tighter and tighter with each passing page. It is true that Laney is not a nice person, but as I learned about her past I found myself caught up in her plan for revenge and couldn't hate her for it. While it's true that two wrongs do not make a right, this is a work of fiction and within it Laney does what many of us have only daydreamed of doing – giving Karma a helping hand. Was what she did right? No, not by societal standards. She is a vigilante whose vulnerability calls to others to help her. And she has no problem using those close to her to exact her revenge. The thing is, Laney isn't self-righteous in her revenge – she knows it's wrong, but she does it anyway.
Ms. Raeder unfolds the story in such a way that you are nearly toward the end of the book before you realize the full ramifications of what was done to Laney and what she set out to do. This is the beauty of the three timelines. It does not make the book an easy read – so be sure you can read without distractions and disruptions – but it is definitely worth the read. I know I was shocked at the final reveal because I NEVER suspected it…or them, as there was more than one reveal. I feel I should point out that I typically do not read F/F books because they're just not my preference. I won't shun a book that contains F/F interactions, but I don't tend to sign up for them either. But the blurb for
Black Iris
was so intriguing that I couldn't pass it up and I'm glad I didn't. I don't feel qualified to comment on whether or not those scenes were sexy, but I will say they were intense and full of emotion yet not gratuitous – they were timed right within the storyline and added to it. The same can be said for the M/F sex scenes – some of which were hot and some were not, but the nots weren't supposed to be hot.
Black Iris
was an intense journey of revenge and I loved it. I for one am glad that Ms. Raeder did not feel the need to make Laney a redeemable character and left her flawed as it made for one heck of a read.
I received a complimentary copy of the book in exchange for an honest review.
Reviewed by Angela at Crystal's Many Reviewers!
Check out the
Black Iris by Leah Raeder
blog post on Crystal's Many Reviewers.
View all my reviews